Curtin University: create and innovate in zinc
Designed by John Wardle Architects, the new headquarters of Curtin's School of Design and the Built Environment (DBE), located in Bentley (Perth/Australia), encourages learning and reflects the University's creative and innovative vision.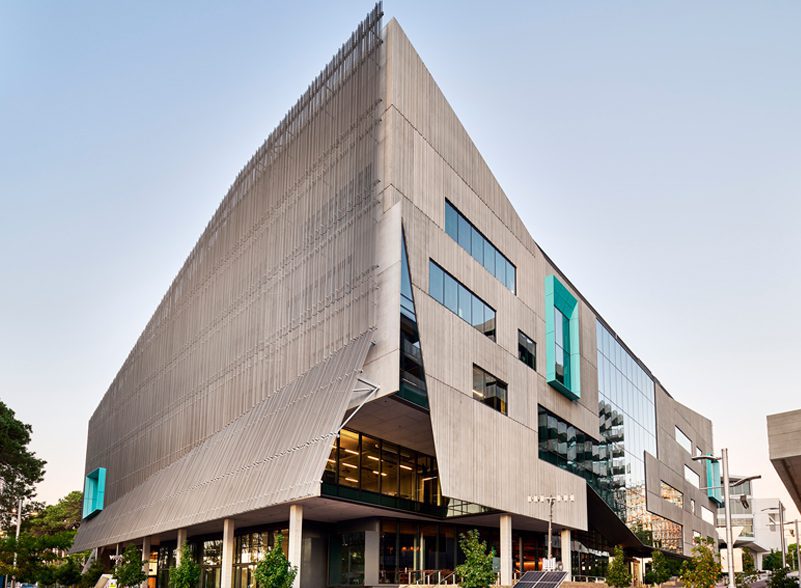 Located in the heart of Curtin University's R&D and Innovation space, the new School of Design and Built Environment (DBE) facility embodies the University's vision to become the benchmark for research and innovation in Western Australia. The 5 floors of its training and research facilities are designed to help students understand how buildings work via mechanical, electrical and hydraulic services, and visible structural elements.
Sustainable facilities
Curtin University's new headquarters is a beacon of sustainable design. Endorsed by the Australian Green Star Design & As Built sustainability certification, the facility features, among other elements, a double skin façade, photovoltaic panels, and water-efficient plumbing.
In keeping with Curtin's newly established as well as traditional diverse traditions, materials adapted to a sustainable and contemporary environment have been used. While the light grey tones of the concrete give a nod to the University's more modern buildings, the industrialised zinc screen redefines the University's brise-soleil tradition, while ensuring the solar protection so necessary in Perth's climate.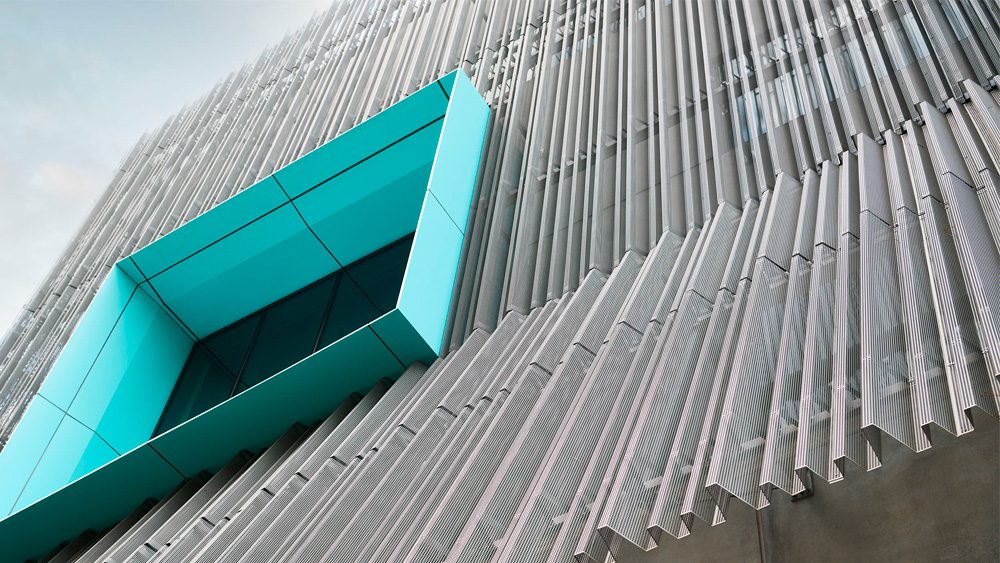 Perforated zinc provides a long lasting contemporary solution
John Wardle Architects, the authors of this building, have used zinc on numerous projects before. However, this innovative project posed a challenge by requiring custom-developed perforated zinc for the screen types they conceived.
In addition to the supply of 1,5mm thick elZinc Slate pre-patinated zinc coils, elZinc undertook to fabricate, through and guided by our Australian representative and fabrication company CASA, the more than 1,250 individual zinc screens, folded into 11 different profiles, as well as the fabrication of the special screen supports.
As the perforation pattern designed by the architects was unique, it was necessary to manufacture a bespoke die for this project.
Moreover, the screen profiles chosen by John Wardle's team form 3 families of patterns for each façade: east, north and west; including corner profiles, which allow for variation in the sequencing of these patterns across each façade to avoid a repetitive effect on the cladding.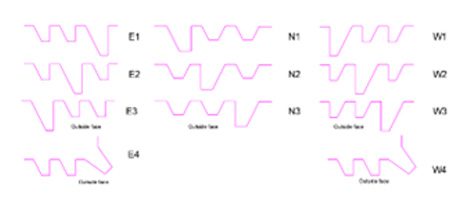 The zinc fabrication processes have therefore been 100% customised, from perforation, cutting and folding to special packaging designed to avoid deformation of the screens during transport to Australia. Not least, a unique labelling system for each of the 1,254 profiles was adopted to make it easier for installers to locate and fit each screen in its correct place accurately and quickly.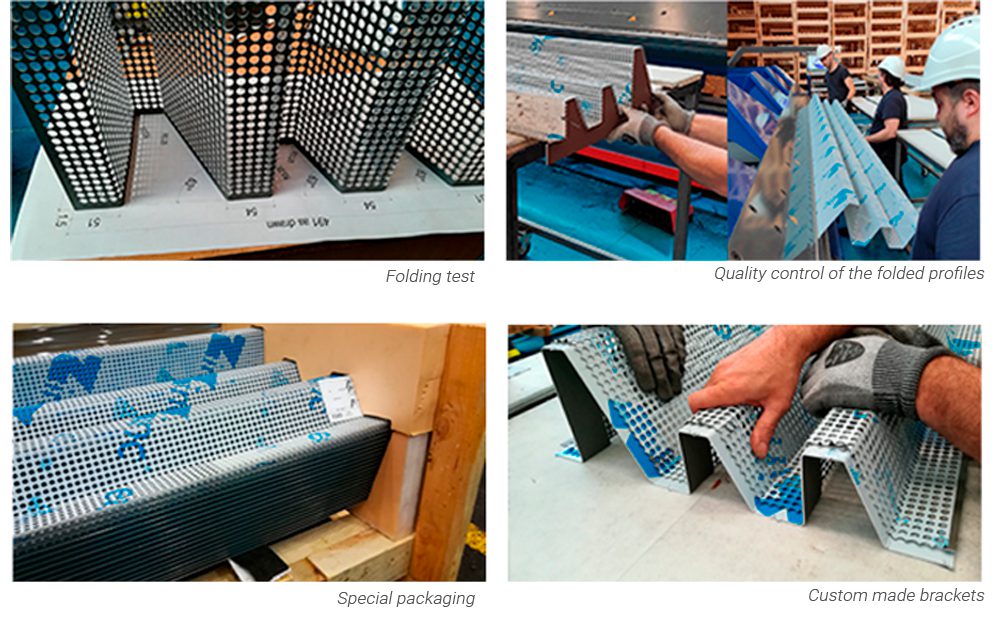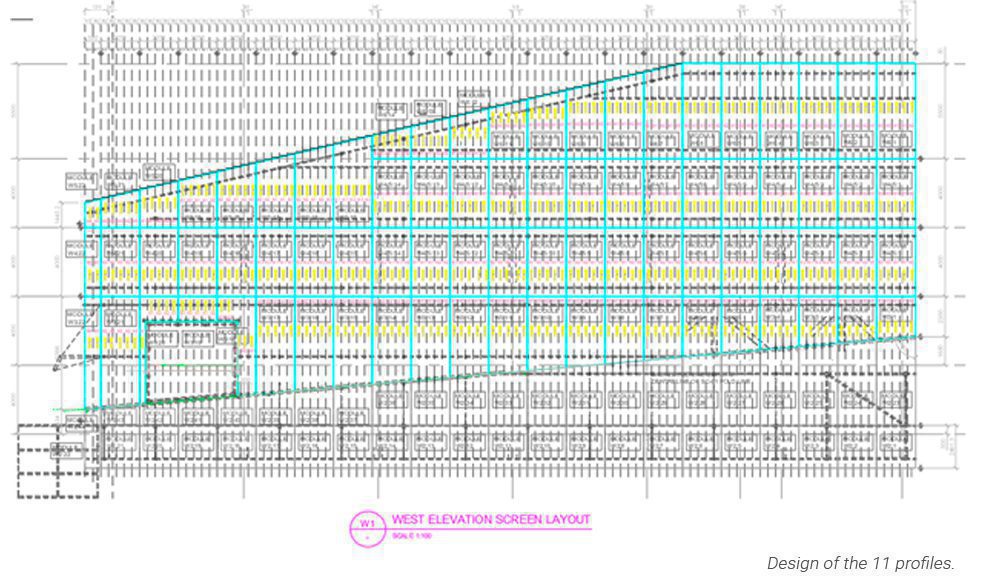 Conclusion
John Wardle's design guarantees solar protection, the comfort of the building's occupants, and energy efficiency, without renouncing aesthetic considerations.  The result is a contemporary building of singular personality that presents to the public a long-lasting, maintenance free, natural finish.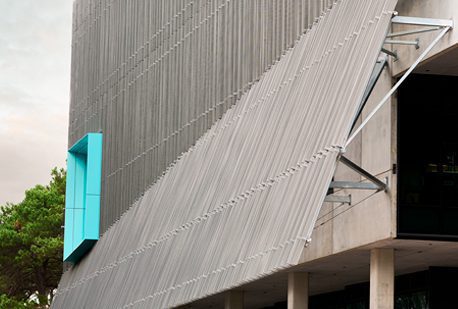 Further information
Cliente:
Curtin University
Architect:
Main Constractor:
Installer:
Distributor:
Photografer:
Finish:
elZinc Slate® in 1,5 mm, maßgeschneidert perforiert und abgekantet